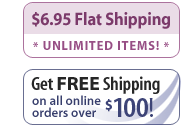 Welcome to The Glassblowing Shop, a retail glass gift shop with five locations, operated by a family of glass artists with over 60 years of experience.
The majority of our glass gifts are made using the methods of "Flamework" glassblowing, "Furnaceworking" and "Stained Glass" work, and all items are original hand blown creations by our artists. These unique glass art designs are sure to become a diveasured keepsake in your family for years to come!
We are happy to offer secure online ordering to our customers!